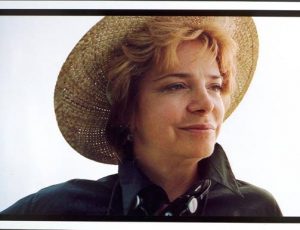 Veteran producer, Gabriella Martinelli, began her film career in British Columbia producing commercials.  Her first feature film My American Cousin won multiple awards, including best picture at the Genies and began her collaboration with producer and early mentor, Peter O'Brian (The Grey Fox).  The following year, she co-produced Zargon: Discovery BC, the Host Pavilion Film at B.C. Expo '86 – shot in the 70mm "Showscan" format at 60 frames/second and pioneered by special effects master Douglas Trumbull (2001, A Space Odessey, Blade Runner) in collaboration with world renowned conceptual illustrator, Ralph McQuarrie (Star Wars, Close Encounters).
Following Expo '86, Martinelli moved to Toronto to head production at O'Brian's Independent Pictures, co-producing Gordon Pinsent's, John and The Missus and Milk and Honey.  She went on to line produce Cronenberg's, Dead Ringers, starring Jeremy Irons followed by Universal Studio's, Renegades, starring Keifer Sutherland and Lou Diamond Phillips.  At Pinewood Studios in England she produced Clive Barker's horror fantasy, The Nightbreed, featuring Cronenberg as the deranged Psychiatrist, Dr. Decker.
Martinelli co-produced David Cronenberg's Naked Lunch, starring Peter Weller, Judy Davis and Ian Holm with legendary British Producer Jeremy Thomas (The Sheltering Sky, Sexy Beast).   The collaboration won multiple international awards including a Genie for Best Picture for Thomas and Martinelli and Best Director for Cronenberg.  Immediately afterwards, Martinelli travelled to China to produce Cronenberg's M Butterfly (starring Jeremy Irons), a Warner Bros release, executive produced by David Geffen. Martinelli became the second western producer to shoot a film in China, the first being Jeremy Thomas with The Last Emperor.  She next produced another Warner Bros film in China, The Amazing Panda Adventure.
In the mid '90's in Mexico City, Martinelli produced Baz Luhrmann's acclaimed Romeo & Juliet starring Leonardo Di Caprio, Claire Danes, John Leguizamo, and Pete Postlethwaite.  During the shoot, James Cameron, in Mexico preparing the Titanic, asked to view Di Caprio's dailies – the rest is history.  
Martinelli funded and produced Spirit Of Tibet: The Journey To Enlightenment a documentary on the life of Dilgo Khyentse Rinpoche,  the revered teacher of the Dalai Lama.   Directed by French Buddhist monk, Mathieu Ricard, narrated by Richard Gere with music supervision by Philip Glass, the documentary is distributed by the National Film Board with all revenues directed to the Shechen Monasteries in Nepal and Tibet.
Born in Italy, Martinelli's family was part of the massive Italian immigration to Canada in the 50's and 60's.   When Italian-Canadian writer Nino Ricci's award winning book Lives Of  The Saints came out about the immigrant experience, she immediately optioned it, including his two yet-to-be written books, In a Glass House, and Where She has Gone.   She promised Ricci to wait until he'd completed the trilogy before developing the story.  It took ten years.
In 2000 Martinelli, returned to her Italian roots, moving to Rome.  Here she formed an enduring friendship with Sophia Loren and the Ponti family.  In 2002 she founded Toronto based Capri Films and produced Edoardo Ponti's Between Strangers, starring, Sophia Loren, Pete Postlethwaite, Mira Sorvino, Deborah Unger, Gerard Depardieu, Klaus Maria Brandauer and Malcolm McDowell as a Canadian/Italian co-production.
Her close ties with Sophia Loren secured the mega star's participation in Lives of Saints, an event mini-series for CTV and Mediaset. Directed by Jerry Ciccoritti the international cast included Sabrina Ferilli, Fabrizio Filippo, Jessica Paré, Nick Mancuso and Kris Kristofferson
In 2004 Martinelli re-teamed with Jeremy Thomas to co-produce Terry Gilliam's Tideland (12 Monkeys, The Fisher King), starring Jeff Bridges. She also produced Vincenzo Natali's in-depth documentary on Gilliam, Getting Gilliam.
Through Capri Films, Martinelli continued her co-productions with Italy including the two event mini-series on the life of Pope John Paul II; Karol, The Man Who Became Pope  and Karol, The Pope, The Man  for CBC and Mediaset. 
In 2009 Martinelli executive produced the Rock'n'Roll vampire comedy, Suck starring, Malcolm McDowell, Iggy Pop, Alice Cooper, Henry Rollins, Moby,  and Jessica Paré.  She next executive produced Marion Woodman: Dancing In The Flames, a documentary on the life of world renowned writer, poet and Jungian analyst Marion Woodman.
Celebrating the talent of friend and colleague Pete Postlethwaite, whom Steven Spielberg declared, "The best actor in the world", Martinelli teamed with Ed Mirvish Productions to bring Postlethwaite's one man show, Scaramouche Jones to the Elgin Theatre in Toronto for an eight week sold out run.
In 2011,  Gabriella Martinelli announced that she planned to take a two year sabbatical.   Instead, she was lured by her friend Jane Silverstone-Segal, the CEO of Le Chåteau, one of Canada's largest retail fashion chains, to develop a romantic comedy in the world of fashion.  Their collaboration resulted in the delightful, After the Ball, starring Portia Doubleday, Chris Noth, Marc-André Grondin, Lauren Holly, and directed by Sean Garrity,  released in 2014.
Her most recent credit is as Executive Producer on Ben Wheatley's, High Rise, starring Tom Hiddleston,  produced by Jeremy Thomas and The Recorded Picture Company.
Based in Toronto, Martinelli has served on the board of "The Academy Of Canadian Cinema":  is as a founding member of "Reel Canada: Our Films in Our Schools": served two consecutive terms on the board of "Women In Film" and the "Toronto Film Board".  She has been on the jury for Canadian films at TIFF and the Noir Festival in Courmayeur.  For her contribution in promoting Italian film and culture, she was awarded "The Outstanding Achievement Award" by the Toronto Italian Film Festival.